• magazine • media • press • publicty
Eight page spread on Zobo Designs and life at the farm featured in the September 2023 edition of Homes & Antiques
---
• stripes
Our deckchair fabric is guaranteed to add some warmth and happiness to your home even when the sun's not out! It comes in 6 vibrantly happy colours that you can mix and match with the rest of our collection to create a sanctuary of colour and warmth.
---
Bring the Summer to your home today!
---
Tropical fabrics coming soon to add some sunshine to your home!
---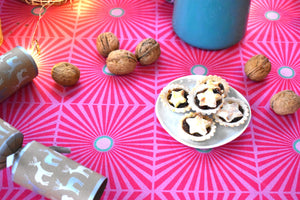 Our Circus fabric is coming for Christmas in this festive colour combo - a perfect addition to a joyful Christmas table!